We have developed a new Service Strategy which focuses on further enhancing our collaboration with the NHS as it strives to recover from the Covid-19 pandemic.  We will continue to work in partnership with other organisations where we provide care in the community and closer to home, taking the pressure off hospital-based services.  Instead of a lengthy document, we have developed a short 4 minute video to describe our ambitions which can be viewed here
It's not just what we provide in terms of our services, it is how we provide these services which is important to us.   We truly believe that living our values of 'Aiming HIGH' will ensure we maintain and further improve the quality of our services for the benefits of patients. The culture of the organisation led by the Board, is based on our values and are tested in everything we do – supervision; appraisals; service development and through our partnerships.
Honesty – being fair and truthful
Integrity – listening without judgement and being respectful
AGility – being able to mobilise solutions quickly
Humility – keep an open mind and continuously learn and improve
GP care's service strategy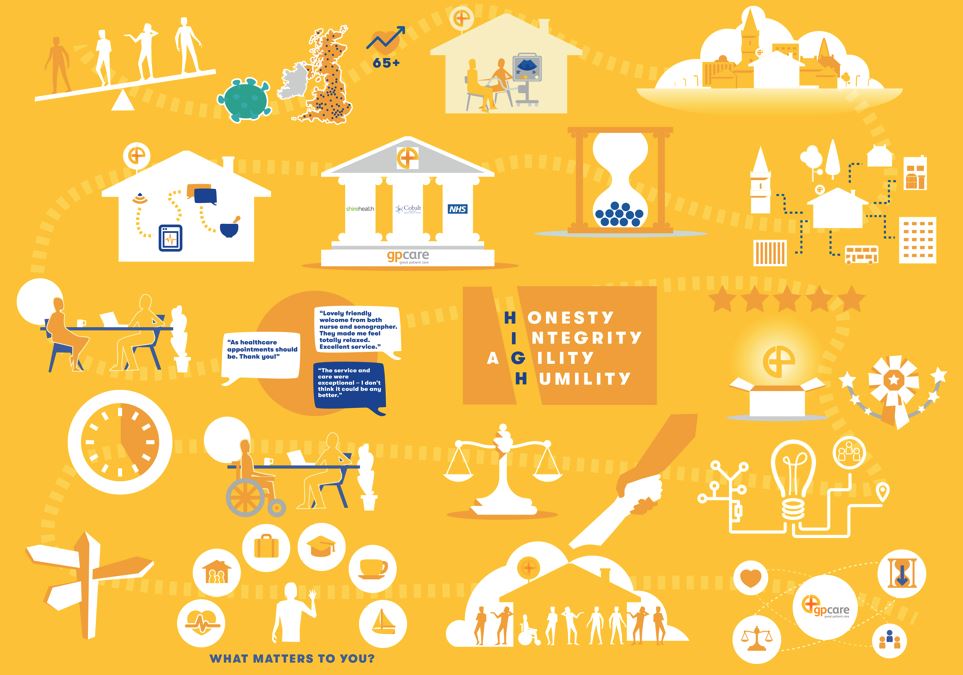 Alongside our new Service Strategy, we have developed a set of tangible strategic aims and values following engagement with stakeholders, both internal and external to the organisation.  Our ambition for growth is not based on some vanity or egotistical exercise, but on increasing the benefits to the communities we serve – more patients receiving great patient care, a variety of employment opportunities for local people and playing our role in addressing health inequalities.     
 We aim to:
Expand services we currently operate to other areas providing high quality services to more people
Move into other service specialties which would benefit from our community one stop approach
Further enhance our positive culture and provide greater training and development opportunities for our staff as we expand our services
Create strong partnerships with organisations with similar values that enhance our service offerings
Improve service quality through innovation and by adopting practical ways of involving patients in the design and delivery of our services
Contribute to addressing health inequalities by tailoring our services to the diverse communities we serve
Ensure our services are financially and environmentally sustainable, achieving accreditation standards that endorse our service quality.
If you are interested in working for GP Care, please click here